About Us
Croft House Theatre Company was Founded in 1902

Made in Sheffield in 1902, Croft House Theatre Company has a long tradition of producing the highest quality theatre using the best of local talent. We are a welcoming, forward thinking Theatre Company, priding ourselves on being inclusive and having a diverse membership. Our range of productions and our passion for quality ensure that each cast and production team are chosen annually. This fluidity ensures we create the best possible productions for our audiences, whilst providing opportunities and support for the next generation of theatre artists. We perform at Sheffield's Lyceum Theatre and as a registered charity; we aim to bring the people of Sheffield the best musicals at an affordable price.
We are always looking for new members to be part of TEAM CROFT
Back Stage, Front of House, Marketing, Management Skills or Performing on Stage.
Members need to be over 16 and are required to pay a membership fee.
Those wishing to perform on stage are required to audition.
CONTACT US VIA LINKS (side bar) for more information
Information for New Members:
---
Croft House Theatre Company have been producing First Class Community Theatre in Sheffield for over a century
We perform annually at the Lyceum Theatre in Sheffield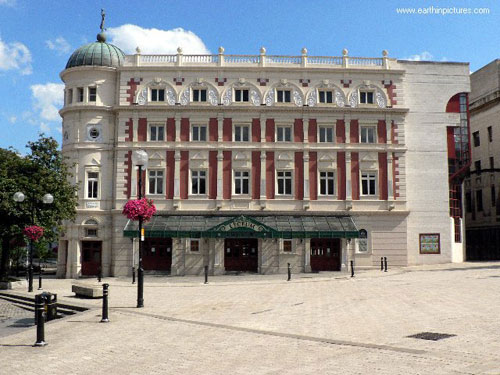 ---
---
Croft Refreshment Team ~ The T Birds

---
The Brian Revitt Award
presented annually to a member who has achieved over and above expectations

---

About Us :
'Croft House Settlement Musical and Dramatic Society' was originally founded in 1902 as part of the Croft House Settlement in Garden Street in the heart of Sheffield. The aim of the Settlement was to provide educational and recreational facilities for underpriviledged children in the city. Various sections, including the Operatic Society, worked to raise money to support and help the running of the Settlement which still exists and operates in Garden Street. In the early years the society's first shows were performed there.
As the company grew and audiences widened they had to move to the Temperance Hall - the site of the later Sheffield Playhouse. In 1920 the Cutler's Hall was booked for a performance of 'Merrie England' and the show was such a success the Company moved in 1921 to the Lyceum Theatre and this was their home for the next 10 years. From 1931 and then continuing after the Second World War most of the productions were held at the Empire Theatre until the theatre was sadly closed. The Society returned to the Sheffield Lyceum in 1960 but again our productions ended there when it also closed in 1969. Croft's 1970 production of 'Virginia' was held at The Montgomery Theatre; then from 1971 to 1990 'Croft House Amateur Operatic Society' (fondly called CHAOS) performed to their biggest audiences at the Sheffield City Hall.
For many years Croft, along with other theatre friends, had campaigned to get the now derelict Lyceum Theatre renovated by joining 'The Friends of the Lyceum Theatre'. The Lyceum Theatre was re-opened in 1990 with a "Grand Amateur Operatic Gala" on 14th December featuring Croft and three other top amateur companies in Sheffield in aid of the Lyceum Theatre Appeal. In March 1991 we were honoured to be the first amateur company to be invited back to perform at the newly refurbished LYCEUM. Many people thought the Lyceum would never be restored to its former glory, but its foundations have always remained strong. Our foundations were also well placed over 100 years ago and the traditions of the society still continue. Over the years our title name has shortened from its lengthy humble beginnings. In September 2010 we changed our name to 'Croft House Theatre Company' to represent the modern musical company we now are; but to all our patrons, members and friends we are just CROFT. JB
Registered Charity Number: 701811
---
Articles:
"A Vision's Just a Vision if it's only in Your Head" Stephen Sondheim
-------------------------------------------------------------------------------
---
A Historical View of Croft House
The following memoirs & photographs have been kindly donated by Philip A. Seed (Leidschendam/Netherlands).
"This is one chapter of the memoirs of my grandfather, T. Alec Seed (1887-1967).
It paints a vivid picture of his time with The Croft House Settlement Operatic and Dramatic Society.
I hope his jottings are of interest to todays members of the society." ~ Philip A. Seed June 2010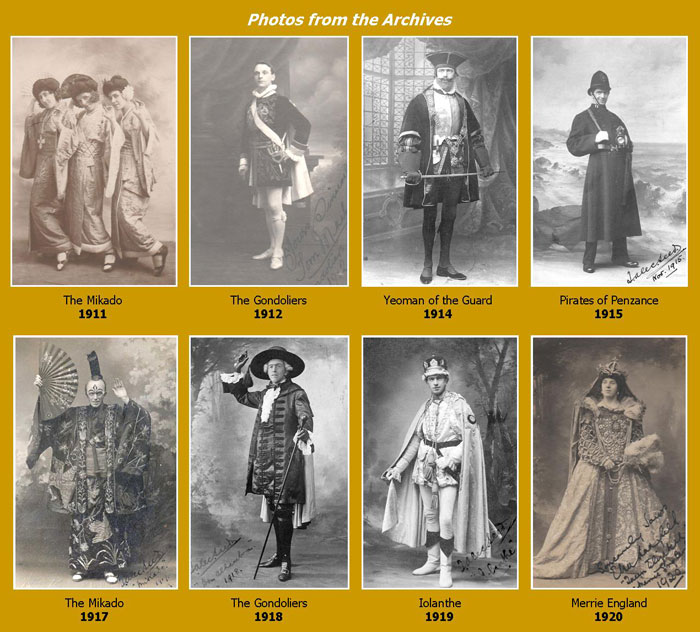 You can see more historical photos in the Croft Archives Pages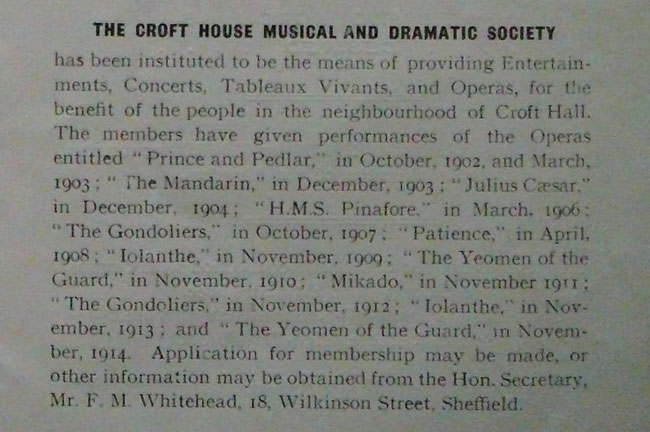 ---
HISTORY & DEVELOPMENT of The Croft House Settlement
The Croft House Settlement was opened on 26th October 1902 by Alderman George Senior - Lord Mayor of Sheffield. The centre occupied premises in Garden Street just off the city centre in a redundant chapel building (erected 1846 as an annexe of Queen Street chapel) and was the brainchild of rev William Blackshaw - its first Warden. Funds for its launch were raised by public events such as a Grand Bazaar in the Cutlers Hall in 1901 which raised the amazing sum of £1090.12s.5d.
The original settlement provided a gymnasium, a men's recreation room and snooker room, a boys reading room and a large first floor hall for meetings, social events and sports activities. Public lectures were mounted and weekend camps arranged for men and boys. Games and activities were provided for poor children and a soup kitchen distributed to local families (the Crofts area being very low-quality housing). Girls classes and mothers meetings were introduced later with classes in sewing and basic hygiene.
The building provided a forces recreation centre in both world wars and the first Scout troop ever formed in Sheffield began in this building. Many different activities have been provided here - a very successful swimming and water polo club; the widely-renowned Operatic Society (still in active existence); boxing; weight-lifting; judo; volleyball; 4-a-side football; youth clubs; canoeing and table tennis.
There were several notable wardens of the settlement - Sister Edith Spencer (1914 - 1940); Dennis S Jewiss 'The Bosun' (1953 - 1960); Joe Jepson (1962 - 1988). In 1999 the Settlement appointed a part-time manager - its first paid employee since the death of Joe Jepson.
Currently the settlement provides a regular home base for some 18 local sports, arts, community and education groups and is open to some kind of activity seven days (and evenings) per week continuing the work and ethos of the past 104 years.
In 2002 Professor John Roach and Mr J R Pitchfork assembled a Centenary History of the Settlement in a very attractive book. Copies of this are available on request from the Settlement office - tel : 0114 249 1460.
---
Richard Roper has kindly provided copies of programmes & news articles from his Theatre memorabilia for our Archives section.
Richard writes ....... "Many years ago when I still lived and worked in the Sheffield area, I compiled a list of shows that played both the Empire & Lyceum Theatres from their opening date to closure. This meant spending many hours in the Local History Dept. of Sheffield City Library going through all the back volumes of the Sheffield Star & Telegraph.( I spent most of my spare time in there and nearly became a fixture - I'm sure some people thought I was on the staff.) I also decided, when I realised I could get copies made, to get reviews of some of the productions and Croft's shows were some of them I had done. It was quite a job and took several years to complete as the job didn't end in the Library. When I got home I had to type up all the lists and cut out the reviews and stick them in a file but it was a labour of love and over the years has been a great source of reference, as it is now looking for things for your Archives. A few years ago, when the Library realised I had these lists, I was approached by them to see if they could copy them and they now have two bound volumes - one for the Empire & one for the Lyceum, which anyone going into the Library can ask to look at, so I was quite pleased. The posters for the Lyceum I got from the Stage Manager at the time - Hedley Morton - who I got to know when I did work for the 'Keep Lyceum Live' Campaign in the late 1960s. My great regret is several years ago selling many of my programmes & theatre posters (which I also collect). Someone in Blackpool (where I was living at the time) made an offer for them. I regret parting with them now, as I would have been able to help with more memorabilia for Croft House. " Richard Roper 15th Sept 2012
---
---
Croft House Theatre Company - Founded in 1902
Producing First Class Community Theatre in Sheffield for over a Century

Registered charity number - 701811
Who's online
There are currently 0 users and 0 guests online.