Officials

---
Mr John Higgins - Honorary President
John was musical director and chorus master for Croft House for 28 years: he loved every minute of it – the shows, the people, the Company, just everything about it – and retired in 2007 after musical-directing/conducting 11 City Halls and 17 Lyceums, plus several concerts along the way. His wife, Carol, was equally enthusiastic, supporting John totally and contributing much towards these productions. Being a self-confessed obsessive about theatres, especially the buildings and their histories, John is a published author on the subject, having written three books. His Theatres of Achievement came out in 2006 and, more recently, he spent a year working with Daniel Evans at the Crucible on Crucible 40, the story of that theatre where the book is currently on sale. John's latest venture is a major work about London's theatres – West End in Watercolour – which tells the story of both the West End and London's Fringe scene, featuring 200 of John's own paintings, and this was published in 2018. Prior to his appointment at Croft in 1979, John had already written two full-scale musicals, including their books, music, lyrics and orchestrations – both of which had been presented in his home-town of Barnsley. John, formerly Vice President of Croft, was appointed President on the retirement of Kath Revitt in October 2015.
Mrs Joan Bennett - Honorary Vice President
---
Trustees / Management Committee
Fiona Hannon Chair
Fiona has been on stage with Croft since she was a 'bump' and is second generation members rep. Her family have been performing with Croft since the early 50's and theatre has always been her passion. She has fond memories of hiding in costume hampers during wild games of backstage hide & seek as a child (health and safety wasn't the same in the 70's). She first appeared on stage aged 9 in South Pacific and apart from a spell as a professional dancer in the 80's, she has been a keen supporter of the local theatre scene. Fiona has appeared on stage with many local theatre companies playing many varied roles. Although performing will always be her first love she has also acted as choreographer, ticket secretary, wardrobe supervisor, props manager and all round general purpose, dogsbody. Fiona has been a trustee at Croft since 2008 and feels priviledged to be part of such a great team.
Andrew Stansall Vice Chairman / Rehearsals Manager
As a member of Croft since 1988, Andrew has played many leading and supporting roles. His most memorable ones are: Billy in '42nd Street': Don Lockwood in 'Singin' in the Rain' : Tom Thumb in 'Barnum' : The Tin Man in 'The Wiz' : and Carmen Ghia in 'The Producers'. Andrew has been a member of the Croft Trustees Management Committee since 1996. He is well known for his artistic flair and enthusiasm. Married to Alison, who is also a member of Croft, their daughter Abigail is fast following in the family footsteps. Footsteps being the appropriate word as Andrew was also appointed as Dance Captain for the 2010 production of 'The Full Monty'
Joan Bennett Treasurer 1996 - 2018 Vice President 2018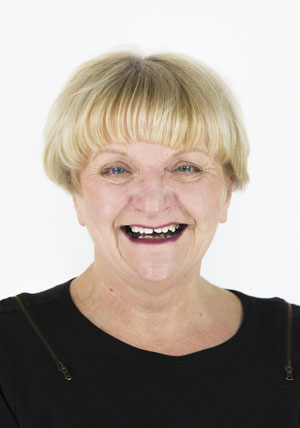 Joan credits her father Jack for her book keeping skills which have been put to good use in her more serious role as Treasurer. Jack was also the family comedian, and taught her the value of laughter, but it is her pianist mum Edith who she thanks for her stage career. Edith was also the full time dancing school pianist, which paid for dance training for Joan from the age of 3 to her teens. At age 12 she was a principal in the then famous 'Childrens Tower Ballet' at Blackpool, also selected to perform at the Royal Variety Performance that year. As a professional dancer in her teens, she was once a magician's assistant (entombed and knifed), and the first dancer to be employed by Mr. Stringfellow (well before his lap dancing days!). A member of Croft since 1975 Joan has played numerous comedic character roles. She has devoted over 40 years to Croft House as a performer, over 22 yrs as Treasurer, many years as a member of the Trustees, organised social events, publicity, designed programmes, painted scenery, sewed (once making a muslin curtain the length & height of the City Hall Stage).
She has collated over 100 years of Croft archives & continues to update the website. Previously Chairman from 2009 -12, Joan's aims are to encourage the new younger members to feel as passionate as she does, to take the company forward, preserving the foundations so carefully laid in the past, for future generations to enjoy.
In 2018 she was appointed Vice President of Croft.
Shan Bennett Company Secretary
It was 1983 when a friend asked Shan if she liked singing and suggested she join 'Croft' ... Having no previous experience of musical theatre she had a lot to learn: how to dance, how to apply make-up, how to get herself on to the right side of the stage, and more importantly not fall off it! She spent many years safely hidden behind palm trees or pirate ships at the back of the chorus but always enjoyed the camaraderie at rehearsals and backstage. Gaining confidence over the years she became a stalwart member of the ensemble, and found herself doing things she had never imagined possible. Shan has raised lots of funds for the members social fund with her games and raffles. In 1997 she was voted on to the Management Committee as a Members Rep, and thus began a new era of learning just how much work goes on behind the scenes to get a show on to the Lyceum or City Hall Stage. In 2009 she took on the added responsibility of Secretary and enjoys working with such a dedicated team. She says she has had the same stick of bright red Leichner lippy throughout her Croft stage career and plans to retire from performing only when the last slick of it is gone ... she's still got 1/4" left!
Kath Kenyon Business Manager
With a wealth of experience both on and off stage, Kath first started treading the boards at the tender age of 14 yrs. She has worked both backstage and front of house as well as directing and performing for various groups in both musicals and plays. Her last performance on stage was in the 2014 production of 'Mansfield Park' at the Crucible for Denys Edwards Players.
Kath's career was in finance and she took early retirement from the bank after serving 23 years holding various positions.
She previously served on the Trustees committee for 10 years as Ticket secretary from 1991 - 2001, and was appointed Assistant Director for several Croft Productions from 2009 - 2012, 2015 & 2016.
She looks forward to the challenge of returning to the Trustees Committee - 2016.
Melodie Cole Trustee
Melodie has been on stage since she was a 'bump' and has appeared in numerous pantomimes and shows, following steadfastly in the steps of her lovely mum Maureen. She started Constance Grants Dance Centre in 1971 and plodded her way through many examinations until becoming a qualified teacher in 1982 and now has her own Dance and Drama School. Melodie is also a member of Equity and appears regularly as a background artist in many TV shows. Since joining Croft House in 1986 she has not looked back; she has appeared in many Croft shows, mainly as a dancer, but has also played many minor parts both at the City Hall and The Lyceum. She has also played leading roles for other societies, but Melodie has also been happy to roll her sleeves up and work backstage too. She was voted on to the Committee in 2009 and is thoroughly enjoying being part of such a fantastic team.
Helen Fidler Trustee
Helen started dancing at a very early age and has always had a passion for performing. After being involved in amateur theatre, mainly onstage during her teens and early twenties as well as sampling a bit of G&S, Helen then studied technical theatre at university and found a love for working backstage as well as performing. Since then Helen has worked with numerous amateur companies across South Yorkshire undertaking the role of Deputy Stage Manager and can often be heard over the tannoy just before the show starts. For the past 3 years Helen has taken the role of Production Manager for Croft House Theatre Company - a role which she thoroughly enjoys. Although sometimes it is a little challenging - being able to work with great production teams, casts and in great theatres is something special.
Helen Green Trustee
Hailing from Darlington,
Helen
spent her childhood watching everything the local operatic society had to offer with her family and always dreamed to be on stage there too. But having dedicated her time to studying classical music rather than musical theatre she was more usually found in the violin section of orchestras than treading the boards. It wasn't until university that she revisited the idea of performing. Since then she's played a number of principal roles across South Yorkshire from Reno in 'Anything Goes' to Sally in 'Me and My Girl'. A member of Croft since 2008 she's most recently played The Baker's Wife in 'Into the Woods'. She was elected to be a Trustee for Croft in 2016.
Rachel Pointon Trustee
Rachel joined Croft in 2004 for the 2005 production of 'Titanic' as third class casualty Kate Murphy; since then she has enjoyed performing on the Lyceum stage in a number of guises. She started her vocal training with the late Deidre Trundle in Glasgow, performing classical and musical theatre principal roles in various theatres, churches and venues. As well as enjoying musical theatre Rachel has sung internationally since the mid 90's travelling around Australia, America, the Pacific and Europe. In April 2016 she fulfilled a life long dream and performed at the Albert Hall. Currently taking a break from performing to concentrate on her newly expanding family, Rachel is excited to be part of the Croft Trustees committee as a members representative.
Marcus Bowen Trustee
Although a relatively new member to Croft, his first show being 'Priscilla Queen of the Desert' in 2017, Marcus has a wealth of experience to bring to the Croft Team. He began performing at the age of 18 as a Bluecoat at Pontins in Lowestoft, and has performed in showcases and competitions all around the country. Since 'Priscilla' he has taken on the role of Joel in our 2018 production '7 Brides for 7 Brothers', performed in an award winning cabaret show, headlined Sheffield Pride and appeared as a contestant on ITV quiz show 'Tenable'. Marcus currently works for the British Tinnitus Association as their Events Manager. He loves performing on stage but is looking forward to his new role on the management team.
---
Production Team 2017
Claire Harriott Director/Choreographer
Claire has been involved in amateur theatre in Sheffield for over 40 years both onstage and behind the scenes. She started out in Babes Chorus in Panto progressing to the dancers, then went on to play leading roles such as Ado Annie (Oklahoma), Katie Brown (Calamity Jane), Irene (Irene), Phyllis Dale (42nd Street) to name a few. She trained at Gwen Wilkins School of Dance and in 1987 attained a Diploma in Performance Arts from Sheffield College. Whilst at college Claire studied the works of Chekhov, Stanislavsky, Shakespeare and Oscar Wild and was lucky enough to attend workshops with London Contemporary Dance Theatre, Ballet Rambert and the Royal Ballet. It was whilst at college Claire started Choreographing for Local societies such as Sheffield Fellowship, STOS Theatre Company, Handsworth and Hallam Theatre Company and was a co-founder of ABC productions. Claire was also Dance captain and assistant Director/Choreographer for Croft House Theatre company between 2003 to 2010. In June this year Claire took on the role of Director & Choreographer for Handsworth & Hallam's production of 'The Wiz' (Montgomery Theatre), a role she will repeat in June 2017 for their production of 'Crazy for You', and is currently choreographer for STOS Theatre Company's production 'Made in Dagenham' (Lyceum). Claire is a civil servant by day and also works at Spotlightight Theatre Dance Studio where she assists with Musical Theatre classes and Chance to Dance (Dance Therapy classes for Children with additional needs). Claire is also a YMCA RSA qualified fitness instructor. Choreography credits: Aladdin, End of the Pier Show, Carousel, Guys & Dolls, Seven Brides for Seven Brothers, Cabaret, The Card, Best little Whorehouse in Texas, Likes of Us, Half a Sixpence, Annie (University Drama Studio), Sweet Charity, King & I , Billy (Montgomery Theatre) Musical Cavalcade 1990, Guys & Dolls, Crucible Awakes (Crucible), A Musical Cavalcade 1991 & 1992, Musical Hall 1993 & 1994, State Fair, Scrooge, Robert & Elizabeth, Annie, Broadway Pirates, Buddy, Oliver, A Christmas Carol, Our House, White Christmas (I love a Piano) and Legally Blonde (Lyceum).
David Burgess Musical Director
David is currently employed at Rotherham College of Arts and Technology as a Curriculum Leader of Music Performance and the new BA (Hons) in Popular Music Performance and Production. He is continually employed as a Musician and Musical Director and also leads the regions top party band, 'The Magnetics', performing regularly around the country. David has worked at many international resorts around the Mediterranean as a performer..
His previous shows include: Boogie Nights, Cabaret, Calamity Jane,The Rocky Horror Show, Carousel, Les Miserables, Guys & Dolls, Anything Goes, The Wedding Singer, Peter Pan, and most recently was M.D. for Starlight Express with GB Creative Productions.
---
Back Stage Team - 2017 Production
Helen Fidler Production Manager
(now a trustee of the company. See above)
Paul Minott Stage Manager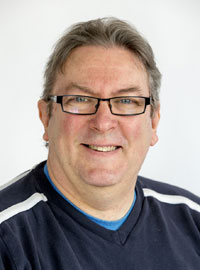 Joining Croft in 1996, Paul was originally a performing member with us until 2002. His interests though were mainly in stage management, and from 2003 to the present day he has been the Stage Manager of all Croft House productions. Paul is also in demand with other local societies providing sound and helping with the building of scenery; a great asset to any theatre company.
Christine Minott Wardrobe Superviser
Christine became involved in Sheffield amateur theatre in 1984. Since then, she has been an on-stage member and has also taken on many off-stage responsibilities such as treasurer, wardrobe manager and more recently props manager with other local theatre companies. Christine has worked back stage helping Croft for many years assisting Paul (Stage Manager). She joined the Croft Props Team in 2011 and was appointed CHTC Props Manager in 2013. Christine was wardrobe supervisor for Sister Act in 2015 & resumes this post for the 2017 production of Priscilla; a welcome asset to 'Team Croft'.
Sandra Houldsworth Ticket Secretary
A qualified dancing teacher and former professional dancer, Sandra has performed as principal dancer, dance captain and chorus member in over 40 years with Croft House. Not wishing to relinquish her involvement with the society, in 2002 she took on the role of Ticket Secretary which she finds far more demanding than performing on stage. Both of her daughters were also dancers, and members of the ensemble for a number of years. Husband Keith still helps with the stage crew. Sandra was also a committee member and trustee until 2009.
Pat Bunting Make Up Superviser
Nicholas Challenger Hair & Wigs
Involved with Sheffield Amateur Theatre for over 20 years, Nick has performed on stage in numerous productions with several companies. Since joining Croft in 2010, Nick has worked behind the scenes with us and was appointed Croft 'Wig & Hair Manager' in 2012. He was awarded the Brian Revitt Award in 2013 for his expertise in the care of show wigs and hairdressing. With his calm and unruffled persona Nick is a welcome asset to the stresses of back stage management. He is a well loved & respected addition to Team Croft. Nick owns his own hair salon 'Nicholas James Hairdressing'
Photographers
Steve Braithwaite
Adrian Egglestone
Mark Feakins
David Mason
Alan Turner
Kevin Cheeseright
---
Miss Judith Silvester
It was with great sadness that we learned on Sunday 23 June 2013 of the sudden death of our president Judith Silvester.
Miss Judy (as she was known to all) first joined Croft in the 1950s as a dancer.
In the years to come she was to be leading lady, choreographer, director and president. Her commitment and passion were legendary and she became an inspiration to us all. Her students have travelled the world, taking with them her discipline and professionalism, but more than that she was a friend to so many of us. She was able to move with ease from the highest level of professional dance training to gently coaching those less able to deliver a performance with confidence and aplomb.
23rd June 2013
---
Over the years Croft has been fortunate to have worked with a number of talented producers, choreographers, and musical directors. For many years Laurie Lingard was the producer, assisted by a talented choreographer by the name of Constance Grant. The family connection with Constance Grant continued, as her daughter Judith Silvester took over the role of choreographer and finally, in 1979 took on the additional role of producer. Croft has also been fortunate in their musical directors, including Douglas Sadler, Leslie Rew, John Bonner and the talented John Higgins.
---
Croft House Theatre Company - Founded in 1902
Producing First Class Community Theatre in Sheffield for over a Century

Registered charity number - 701811
Who's online
There are currently 0 users and 1 guest online.