News
Croft Archives News: There are now lots more additions to the archives
Feel like a wander down Memory Lane, or a Historical view for the younger members?
We have nearly all programmes in our Archives Section,with many photos, newspaper articles & reviews spanning over 100 years.
Quite a few from the 1930's and the Roaring 20's, with some interesting newspaper articles from the 1930's.
The Archives are being added to frequently.
We are still searching for the programmes for: 1930, 1933, and 1934
If you have any memorabillia or photos we can add to the archives or gallery please contact us via the website
---
Info for new members wanting to join the company: See [About Us]
---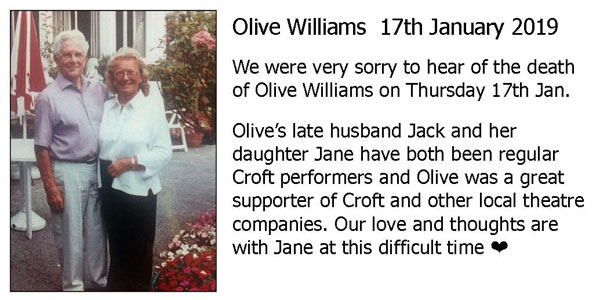 ---
1st November 2018 Davron Hicks (Bustopher Jones)
Due to family commitments, Davron is sadly no longer able to be in our show 'CATS'. We'll miss you Davron and hope you can join us again in the future. Steve Pashley has kindly agreed to take over the role of Bustopher Jones, and we know he'll do us proud.
The updated Cast List is published on "What's On"
---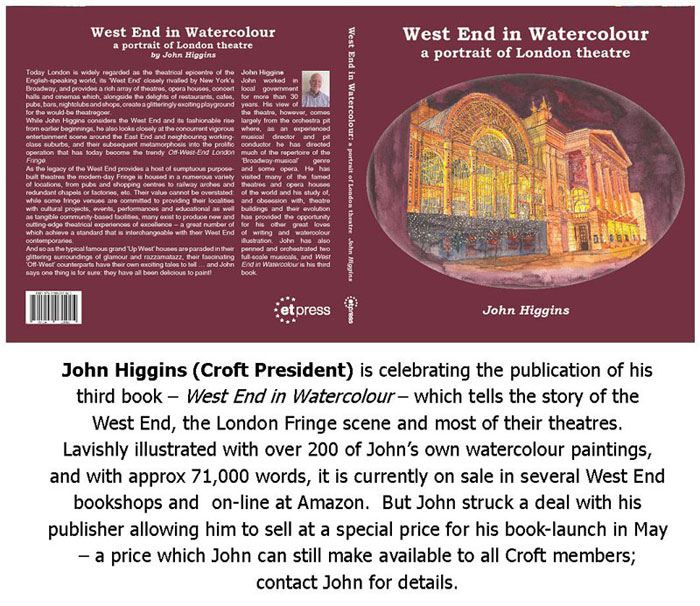 ---

---
16th September 2018
Thank you to everyone who came to our auditions.
After 6 hours of deliberations we're really proud to announce our cast.
We think they're going to be purrrfect
---

---
17th July 2018
Croft House Theatre Company
are pleased to announce the appointment of our new Vice President JOAN BENNETT.
Joan has been a member of Croft since 1975, as a performer and trustee for many years holding various positions. She is currently our treasurer, a post she has held for over 22 years. Joan is pictured here with Croft President John Higgins.
---
17th July 2018
Congratulations to JAMES BELL - Winner of the 2018 'Brian Revitt Award'

Congratulations to James Bell who is this year's recipient of the Brian Revitt award.
James took over the role of Luke for the final act of our final performanc
e of '7 Brides for 7 Brothers', after Simon Addy badly injured his knee in the fight scene at the end of Act I. Simon who is currently recovering from surgery on the knee has been awarded our honorary Oscar.
~~~~~~~~~~~~~~~~~~~~~~~~~~~~~~~~~~~~~~~~~~~~~~~~~~~~~~~~~~~~~~~~~~~
Simon Addy
Simon spectacularly injured his knee during the
last performance of '7 Brides for 7 Brothers'
We wish him a speedy recovery.
When we say "Break A Leg" Simon - don't take us literally
---
Miss Brenda Scaife - Honorary Vice President
It is with great sadness that we announce the passing of our Vice President, Brenda Scaife, who died peacefully on 1st June 2018.
Joining Croft in1946 after the 2nd World War, Miss Scaife was most probably Crofts longest serving member. Her first production with "The Croft House Settlement Operatic and Dramatic Society" was in 1947 at The Sheffield Empire Theatre in "Belle of New York". This aptly describes Brenda as she had many a tale to tell of her cruises to New York; along with fascinating tales from 'the old days' when the late Laurie Lingard was Director, Douglas Sadler was M.D.. and the famous Connie Grant was choreographer.
She became Croft Secretary in1978 and held this position for over 30 years - until 2008 when she was elected Vice Chairman of the Trustees. She retired from the Trustees committee in 2009 and became Vice President of the Society. Brenda devoted nearly 70 years to Croft House Theatre Company . She was also a staunch member of N.O.D.A. and thoroughly enjoyed participating in the annual conferences and balls held in Bridlington. She was always available for advice and held a wealth of knowledge about the Society. A much loved and respected veteran member of Croft.
---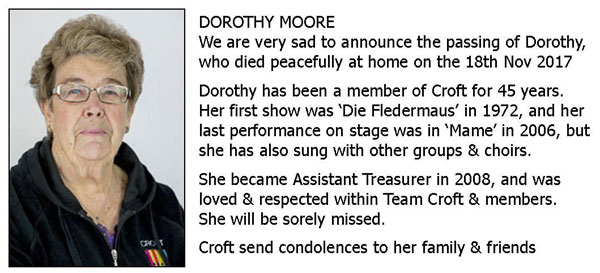 ---
---
December 2017
Congratulations to Judith Temple & Hazel Crowther
Presented with Croft Life Membership
by CHTC President John Higgins
---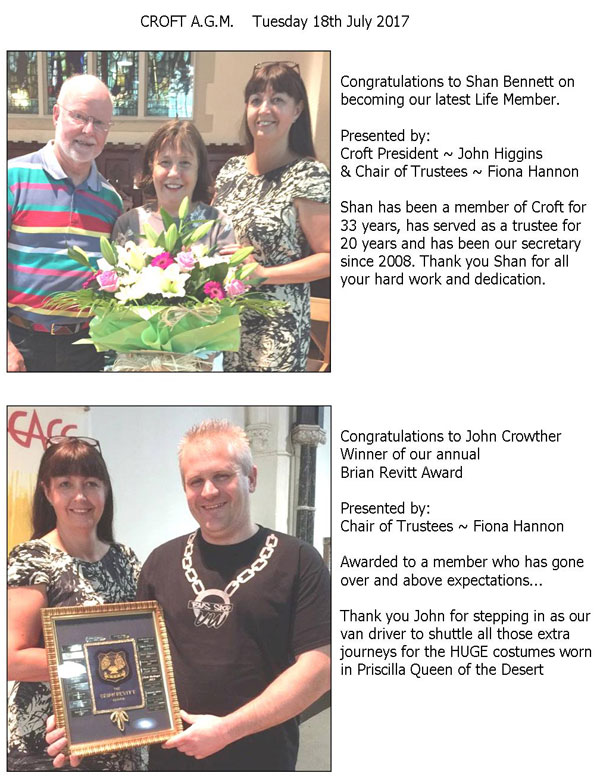 ---
12th July 2017
Remembering Judi Johnson Hart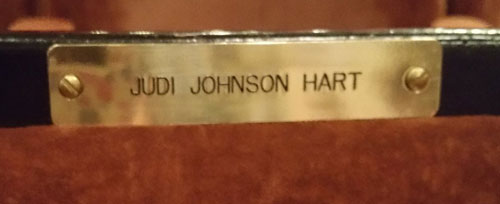 Lyceum Chair Plaque
---

---
3rd January 2017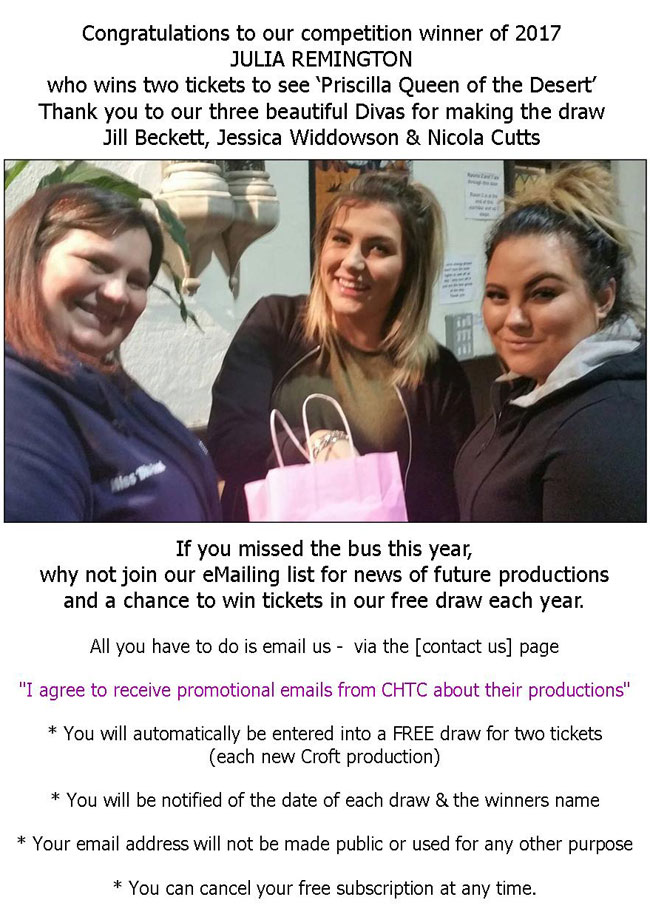 ---
23rd September 2016
Get Well Wishes
To our Vice President
Miss Brenda Scaife
Convalescing at Tapton Edge Nursing Home
---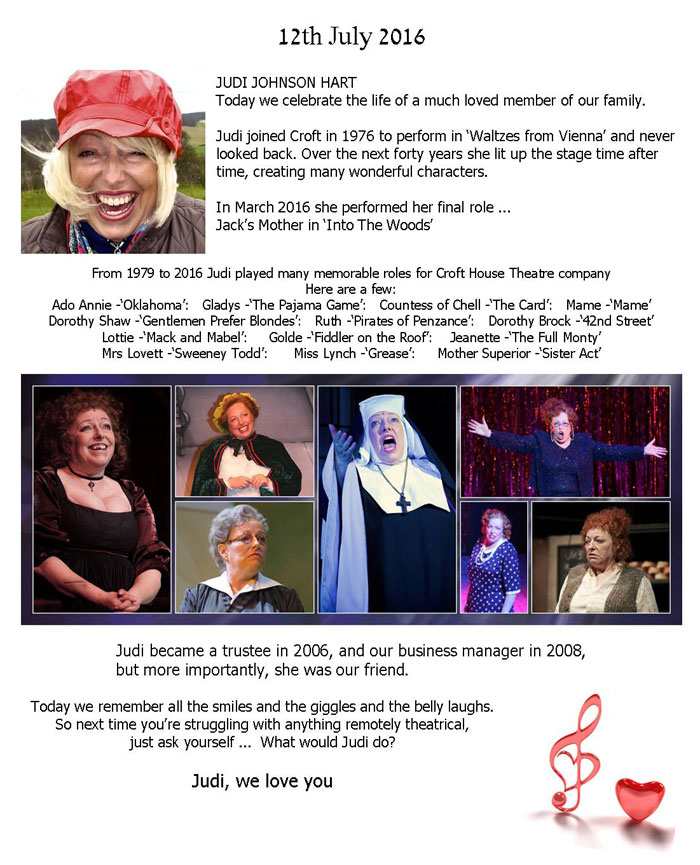 ---
A.G.M. 5th July 2016
Mr John Higgins (President) Chaired the meeting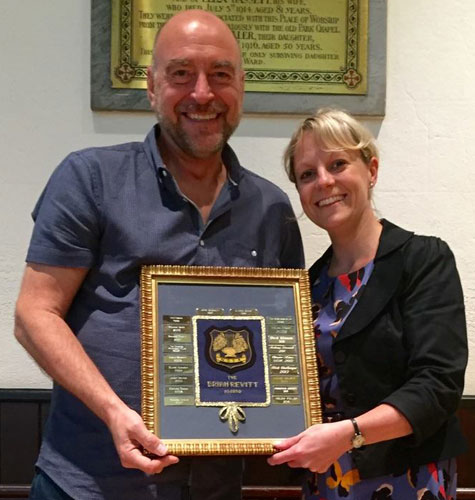 Martin Peacock presents Helen Fidler with the Brian Revitt Award
........................................................................................
New Chairman Fiona Hannon with Martin Peacock on his retirement from Croft
We wish Martin all the best in his transfer to Guernsey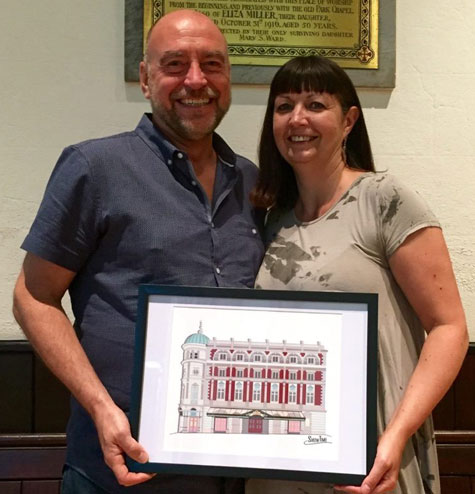 New elected Committee are:
Fiona Hannon - Chair
Andrew Stansall - Vice Chair
Shan Bennett - Secretary
Joan Bennett - Treasurer
Kath Kenyon - Business Manager
Gareth Davies - Branding Manager
Melody Cole - Members Liaison Officer
Members Representatives:
Laura Collis, Helen Green, Rachel Pointon
---

---
26th November 2015
Happy 30th Birthday to Joe Hamilton (Cinderella's Prince)
Celebrating with the Cast of 'Into The Woods'

---
Congratulations to Members - Rachel Pointon, Louise Walker & Laura Collis
The next generation of Croft members were born in 2015
10th June 2015 Sebastian Hay Pointon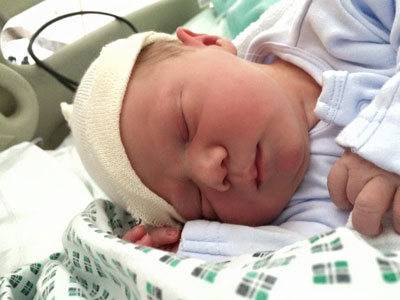 31st July 2015 Amelia Louise Walker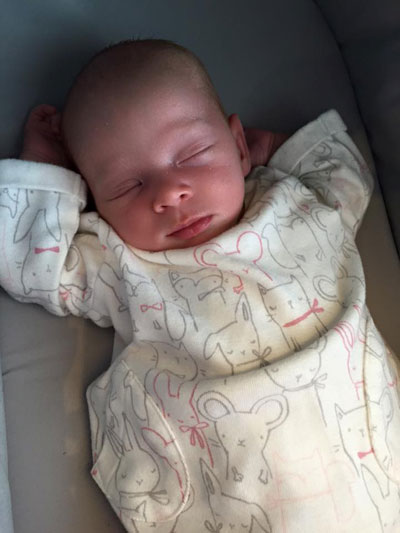 2nd September 2015 Matilda Jessie Collis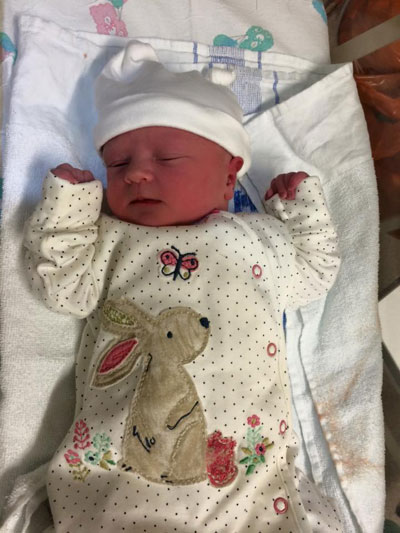 ---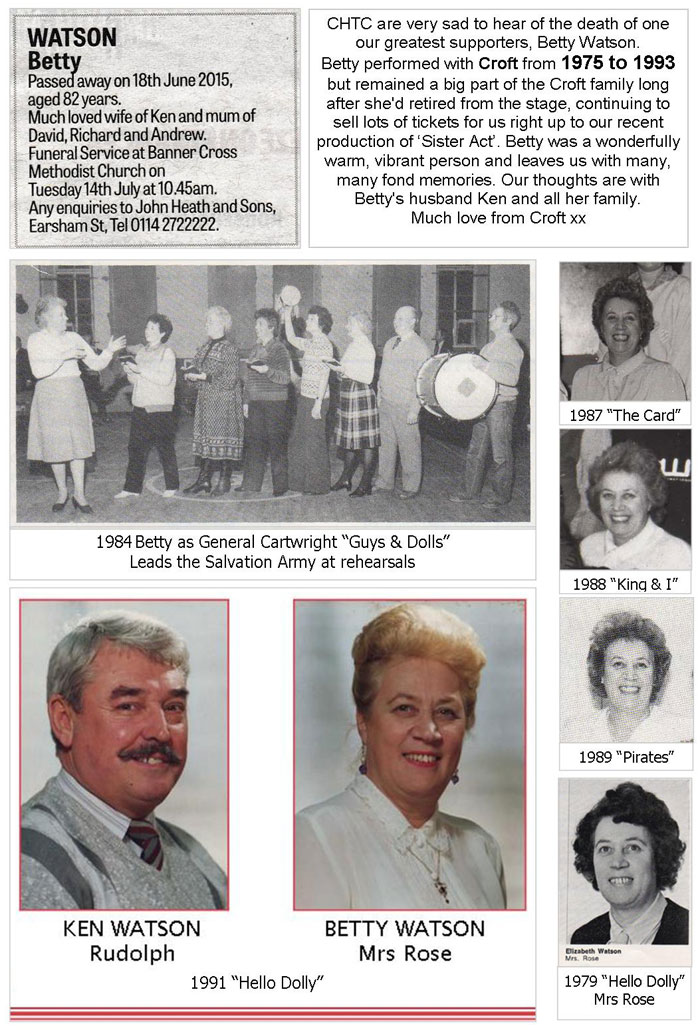 ---

---
16th December 2015
Congratulations to Dorothy Moore
who has received Life Membership of Croft
Her first show was Die Fledermaus in 1972
Her last performance with Croft was in Mame 2006
& she has been assistant Treasurer since 2008.
---
July 2015 AGM
Congratulations to
Christine Minott
Winner of the Arnold Laver Award for 2015
---
15th November 2014
GRADUATION CONGRATULATIONS to Mark Drakeford & Ellie Hudson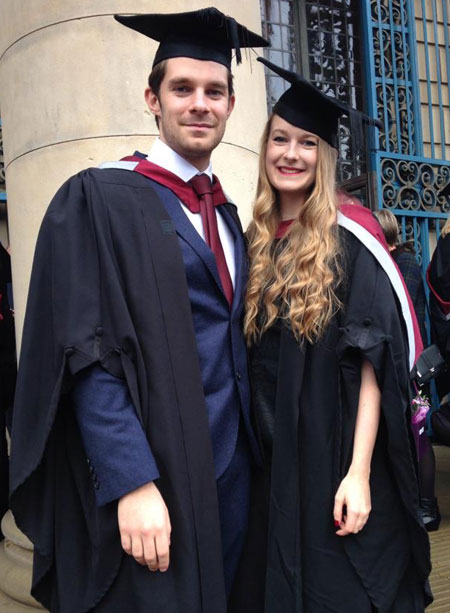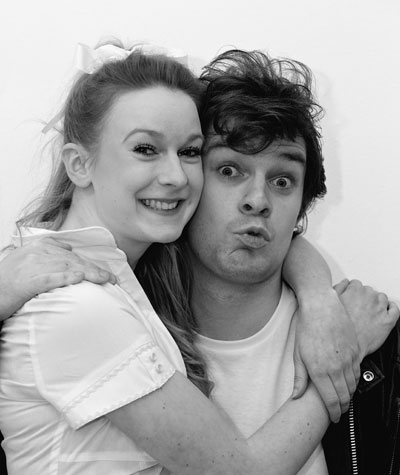 Mark & Ellie as Sandie & Danny in
Croft's production of Grease 2014
---
22nd October 2014 - Free Mailing List Draw
The winners name was drawn at rehearsal tonight by our 'Deloris' Sharon Stacey
Congratulations to JULIE BRIGGS who has won 2 tickets to see 'Sister Act' on 10th March 2015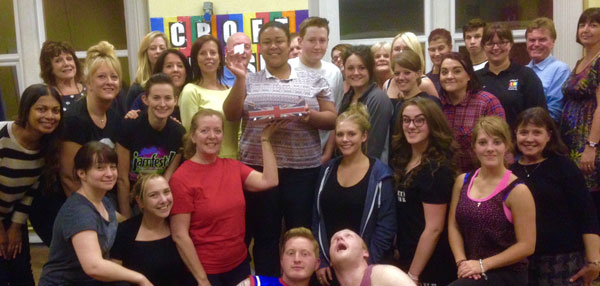 ---
Andrea's Funeral will be at Hutcliffe Wood Cemetery
Wednesday 15th October at 11:30am
.................................................................................................................................................
27th September 2014 ANDREA BAGNALL

Croft House Theatre Company are very sad to announce
the passing of Andrea on Saturday 27th September 2014
---------------------------------------------------------------------------
Andrea was a member of Croft for over 40 years
Her first production was in 'The Merry Widow' in 1971
She is pictured here in the ensemble for 1982 and in 'Mame' 2006
Our condolences are sent to her friends & family.
---
Tuesday 2nd September
Sandra & Keith Houldsworth
presented with Life Membership of Croft House Theatre Company
by The President - Kathleen Revitt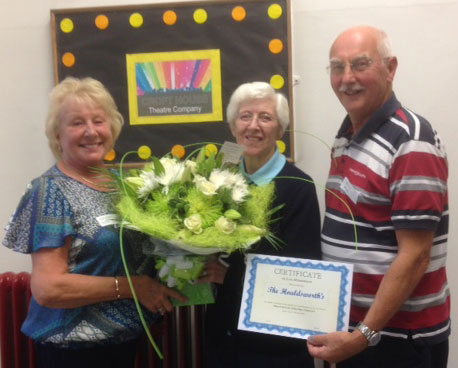 ---
Tuesday 2nd September
SHEFFIELD FAYRE at Norfolk Heritage Park on Sunday 24th August.
(The winning ticket was drawn at the first rehearsal tonight)
The Lucky Winner of 2 tickets to see 'Sister Act' is -
AMANDA POOLE of Southey Green
Thank you to Mary Newey for running the promotion,
with much appreciated help from Sandra & Keith Houldsworth
---
Awards:
Miss Brenda Scaife (CHTC Vice President)
presented with NODA 70 years medal from David Streeter ( Councillor for NODA North East)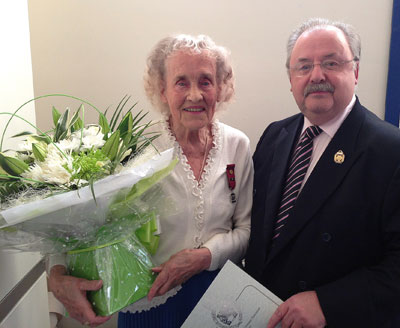 ..............................................................................................................................................................................................
Louise Walker -
Receiving the Brian Revitt Award from President Kath Revitt & Chairman Martin Peacock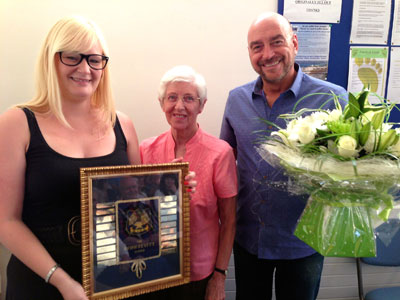 .................................................................................................................................................................
Life Membership awarded to:
Joan & Ron Bennett, Kath & Neil Kenyon, and Sandra & Keith Houldsworth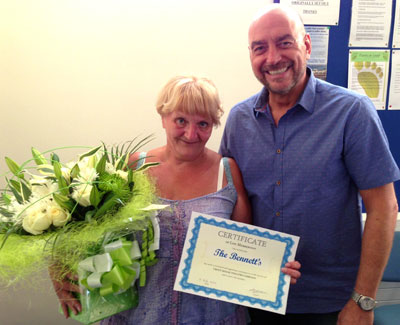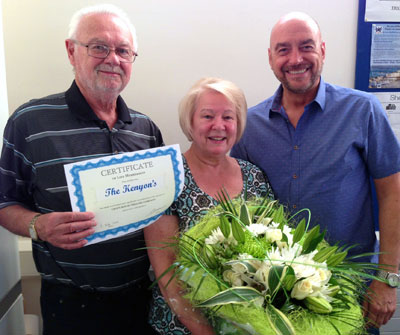 ---
22nd May 2014
Congratulations to Janet Sanders
Janet has been awarded her 50 year NODA gold bar for service to Amateur Theatre.
Croft are very proud that Janet has been a member for so many of those years.
---
April 2014
Well Done to Hazel Handley
Congratulations to Hazel - who has recently been awarded her 50 year
NODA gold bar for service to Amateur Theatre.
Croft are very proud that Hazel has been a member for so many of those years
---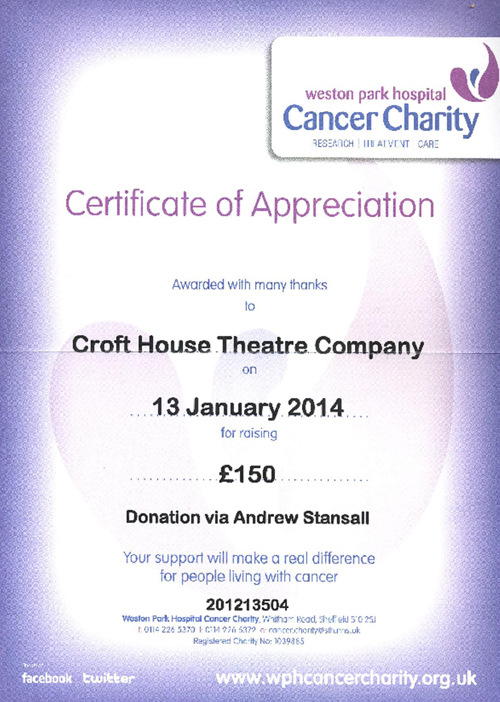 ---
Grease 2014



Mary 'in the pink' Newey
From Leading Lady to Lead Programme promoter

Croft President & Past President
Kath Revitt & Basil Andrews
The Presidents Evening in The Lyceum Hepworth Room Wed 12th March 2014
Attended by NODA Officials, Croft Officials & Croft Life Members & friends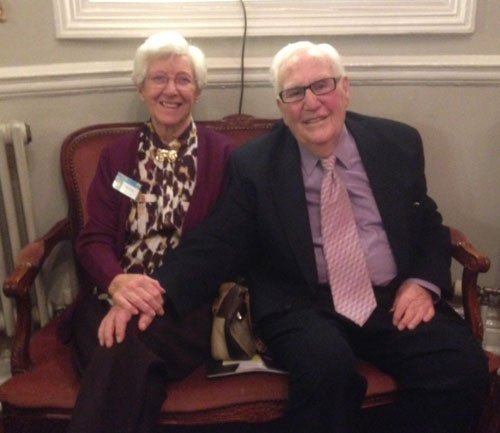 Pauline Coopland 'Our Coops'
Opening Night of Grease 2014


---
'Break a Leg' to all our members in 'Grease' this week
Best wishes for a stonking week to all the Cast, Crew, Technicians,
& all the un-sung heroes connected with this production
---
Jack's Funeral
2:30 on Monday 17th February 2014
St Johns Church, Abbeydale Rd South

Funeral arrangements will be posted when available
---
A Very Happy Christmas from Team Croft 2013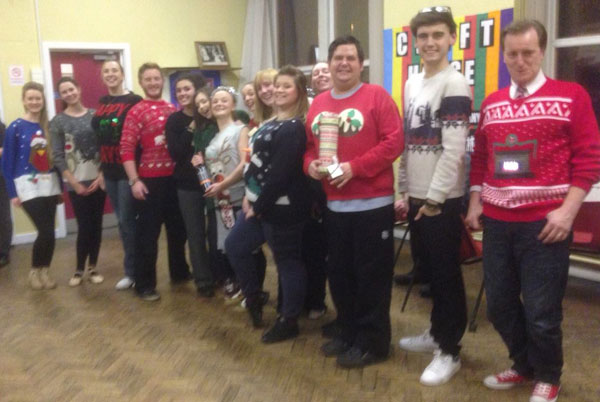 ---
---
4th December 2013


---
Tuesday 19th November 2013
The WINNER of the mailing list draw was randomly selected tonight by our leading Lady & Man
SANDY & DANNY ( aka Ellie & Mark )
The lucky winner of 2 tickets for 'GREASE' opening night is C. MITCHELL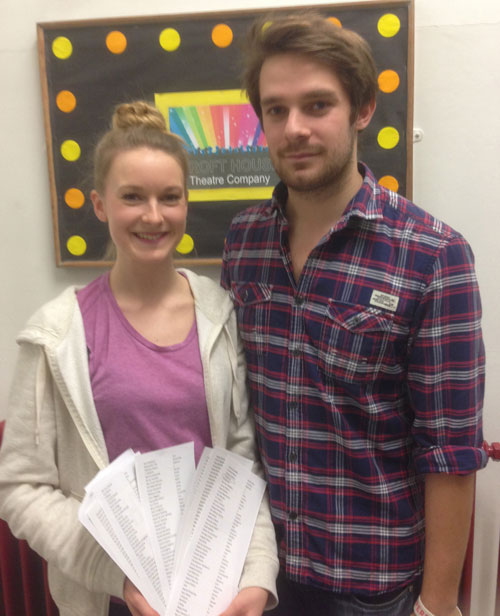 ---

---
16th October 2013
JOHN EATON - Croft Director from 1969 (Desert Song) to 1974 (Bitter Sweet) died peacefully this morning.
Our condolences are sent to his wife Hazel & two sons.
---
6th October 2013
Congratulations to Croft Member Philippa Matkin
who got engaged this weekend to Garry.
---
Good Luck Ellie !
---
1st August 2013
Croft House Theatre Company are happy to announce
Kathleen Revitt as our new President
---
Brian Revitt Award 2013
Congratulations to Nick Challenger who was presented with this award by Kathleen Revitt at this years AGM.
His hairdressing skills went beyond the call of duty during show week & the care of wigs was exceptional.
The Oscar 2013
This 'for humour' award was won by our very own Mrs Overall, Helen Kempton, who in the line of duty "the show must go on" performed all week in Acorn Antiques with a very badly sprained calf. This obviously made her facial expressions real & improved her performance.
Runner up was Fiona Hannon who managed to get her lines out on opening night despite nearly choking with a very bad cough & sore throat.
---
Friday 26th July 2013
---
25th July 2013:
---
Elaine Spall (Member of CHTC in 1980)
Has written these poetic words
~~~~~~~~~~~~~~~~~~~
~~~~~~~~~~~~~~~~~~~~~~~~~~~~~~~~~~~~~~~
---
Sheffield Telegraph 4th July 2013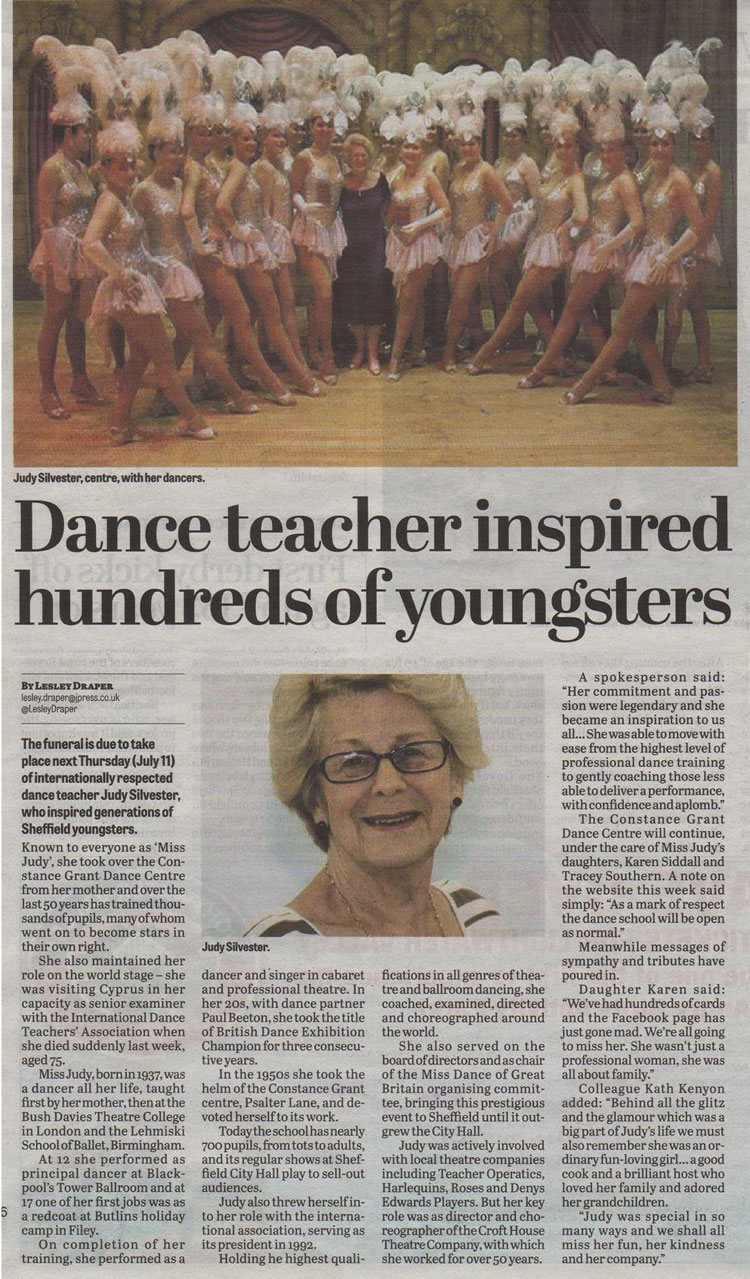 Sheffield Star 27th June 2013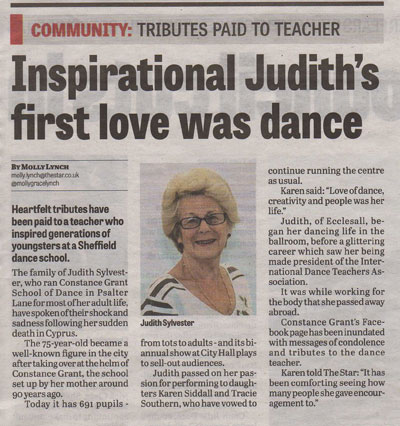 ---
Judith Silvester
It was with great sadness that we learned on Sunday 23rd June
of the sudden death of our President, Judith Silvester.
Miss Judy (as she was known to all) first joined Croft in the 1950s as a dancer.
In the years to come she was to be leading lady, choreographer, director and president.
Her commitment and passion were legendary and she became an inspiration to us all.
Her students have travelled the world, taking with them her discipline and professionalism, but more than that she was a friend to so many of us.
She was able to move with ease from the highest level of professional dance training to gently coaching those less able to deliver a performance with confidence and aplomb.
We are stunned by this sad news and send all our love to her daughters Tracey and Karen.
---
Gareth Davies & Joan Bennett 2013
NODA Award Winners for CHTC "The Sound of Music Programme"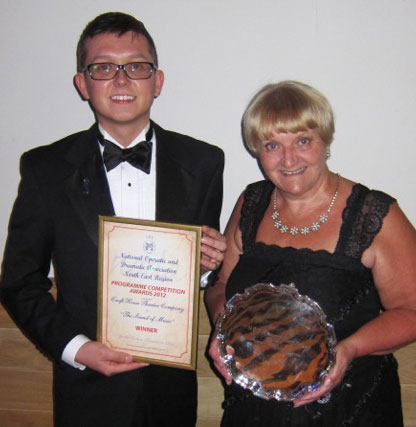 ---
Antique Acorn Competition Marigold Winners: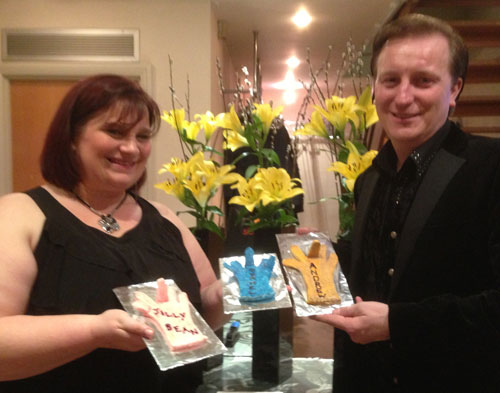 1st: Andrew (Gold) 2nd: Jillybean (Pink) Joint 3rd: Our Mel (Blue) & Richard Roper
---
CROFT & STOS Dinner Dance 2013 at Baldwins Omega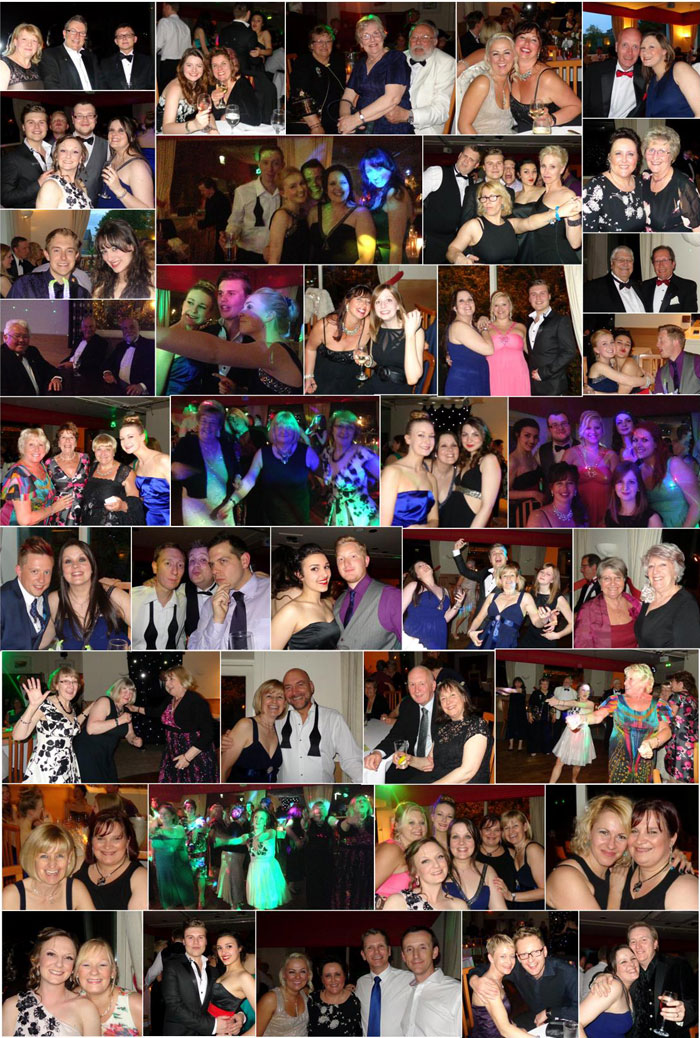 ---
NEWS from N.O.D.A. Conference 2013
Croft House Theatre Company WON first prize in the regional competition "Deluxe Programme Class"
for their 2012 "Sound of Music" Programme (can be viewed in the Archives section of this website)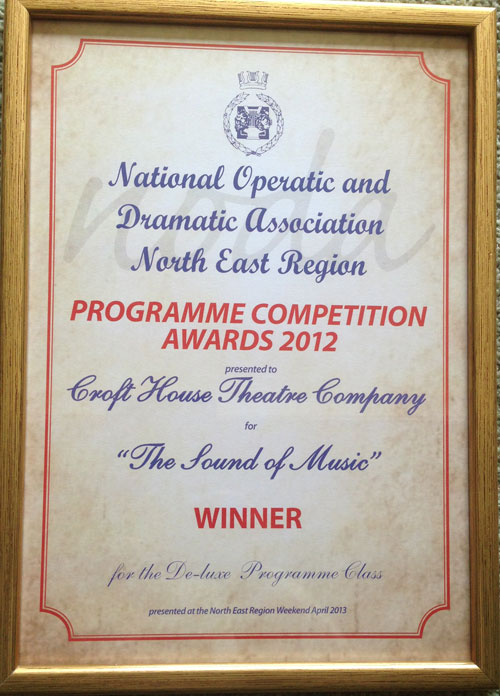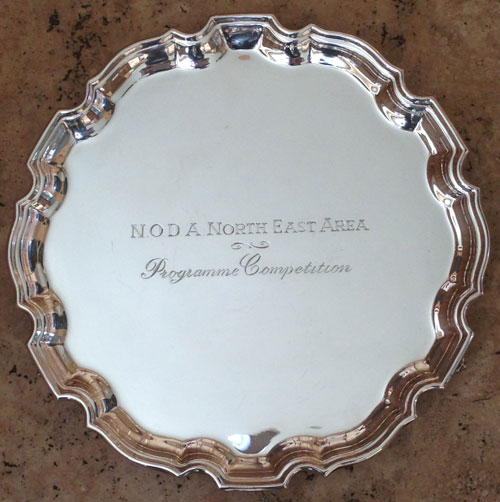 Chairman - Martin Peacock with Vice President - Brenda Scaife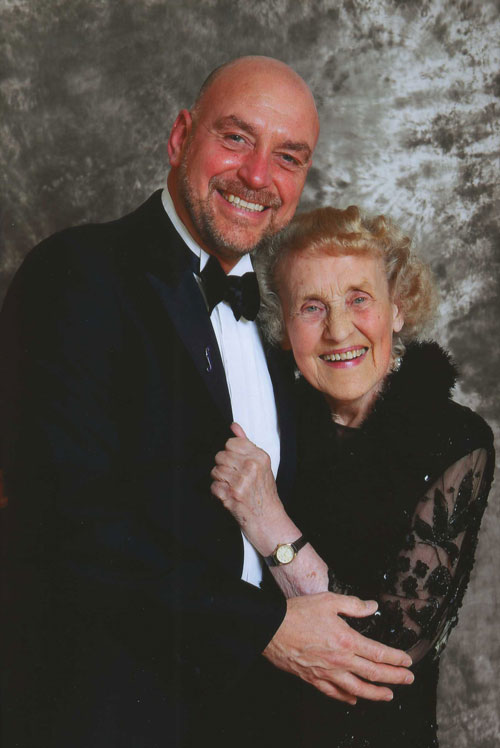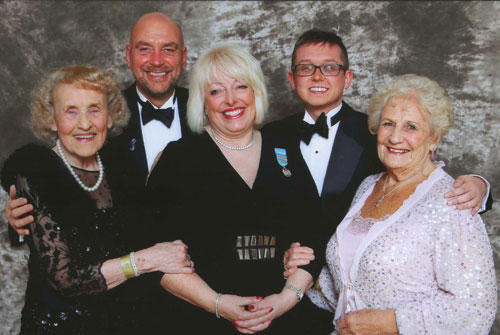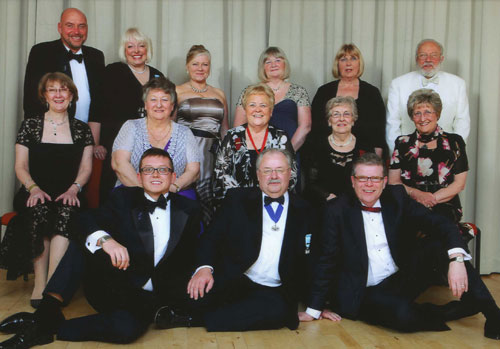 1) With Judi Johnson Hart & Gareth Davies
2) Members from Sheffield attending the NODA conference pictured with David Streeter (NODA regional councilor )
---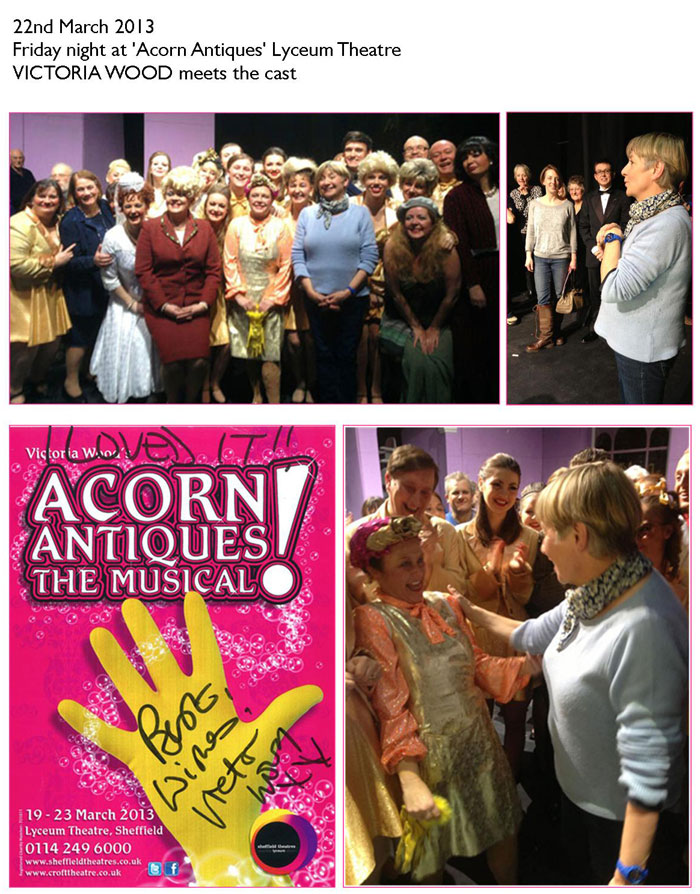 ---
---
-----> STAR REVIEW Read the review on-line for Acorn Antiques
---
VIP night at 'Acorn Antiques' Lyceum Theatre - Thursday 21st March 2013
The Lord Mayor, Councillor John Campbell, & Ms Catherine Taylor meet the cast after the show
The Lord Mayor chose the winning ticket for the Antique Acorns Puzzle and
Presented the prize of a pink sequined bottle of bubbly to our Melodie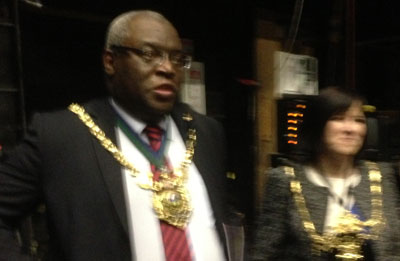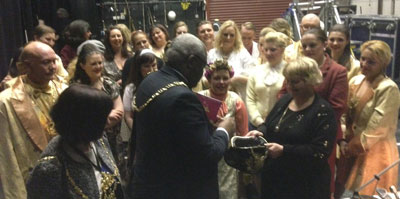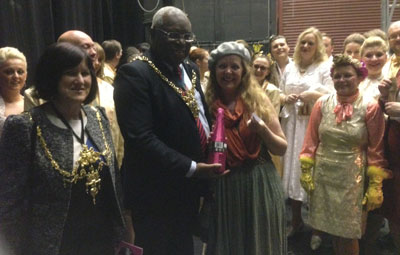 ---
Opening Night of Acorn Antiques The Musical 19th March 2013
The President of NODA Mr Derek Grattidge meets the cast on stage after the show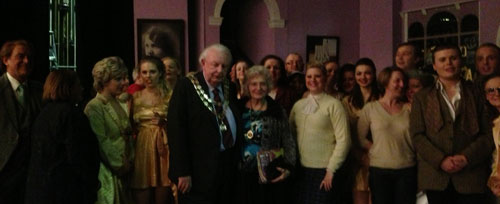 ---
Sheffield Star Review 21st March 2013
Can now be viewed in The Archives
---
Telegraph - Thursday 14th March 2013
Can now be viewed in The Archives
---
Read all about it at:
---
Red Nose Day 'Rehearsals'

---
Watch Kates BIG surprise on film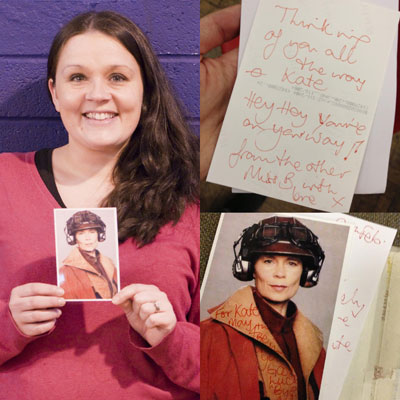 Courtesy of You Tube
---
8th December 2012
Congratulations to Andy & Laura Collis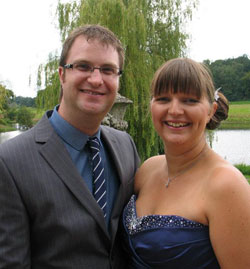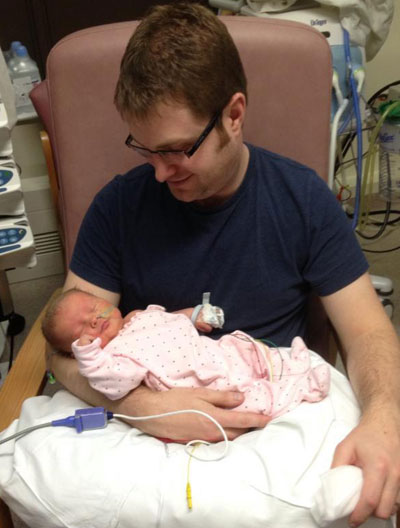 On the birth of their daughter Isabella Mary CollisSaturday 8th December 2012
Best wishes from all your friends at Croft House Theatre Company
---
Best wishes to all members performing in:
"Thank You For The Music" 24th November 2012
CHARITY CONCERT
Remembering Malcolm Johnson
Featuring Croft House Theatre Company
Proceeds to The Fire Service Benevolent Fund and Barnsley Hospice
DETAILS & FLYER are already posted on earlier news
---
19th November 2012 (Competition for Members & Friends of CROFT)
The Antique Acorns Competition
The 'Acorns' are pictured here on holiday in Devon.
There will be postings of them pictured at various venues/sites in and around Sheffield
Competition Rules: Answers to Joan please
You have to tell me where the Acorns are - by private message (FB) Text or email:
ALL correct answers from each photo will be put in a draw to select the overall winner
Anyone publishing the answers on FB comments /Twitter /or other will be disqualified.
---
STOS 'A Christmas Carol The Musical'
13th to 17th November 2012
WELL DONE to all our members & friends who are performing in this superb production
Directed by Mark Feakins, Choreography by Claire Harriott, Musical Direction by Andy Collis,
at The Sheffield LYCEUM this week.
---

November 2012
Best Wishes & Well Done to Katie Mather
Katie has gained a placement to be a 'Character Performer'
as part of a Summer work experience
at WALT DISNEY WORLD - FLORIDA
from 10th June to 16th August 2013.
---
24th November 2012

"Thank You For The Music"
CHARITY CONCERT
Remembering Malcolm Johnson
Featuring Croft House Theatre Company
EMMANUEL METHODIST CHURCH
Huddersfield Rd, Barnsley S75 1DT
SATURDAY 24th NOVEMBER at 7pm
Tickets £6.00
Proceeds to The Fire Service Benevolent Fund
and Barnsley Hospice
for more info
---
A HUGE CROFT THANK YOU to Richard Roper of Bournemouth
Richard has kindly supplied us with copies of several 1950's programmes and dozens of
newspaper articles/reviews dating back to 1928 for our Archives section of the website.
You can read Richards interesting facts on the 'About Us' section of the website.
---
11th Sept 2012 - Congratulations & Welcome to 5 new Croft Members
Carla, Becky, Hayley, Lizzie & Rebekah have successfully passed their entrance auditions tonight
NOW ... WHAT'S HAPPENED TO THE BOYS ???
---

BEST WISHES to BEN MILLER & ELEANOR ALLBONES
Both leave for Theatre Schools on Sunday 9th Sept
Ben (equity name: Ben Millerman) is studying for a 3yr BA at The Arden School of Theatre in Manchester.
Eleanor is doing a 1yr Intensive Musical Theatre Course at Performance Preparation Academy in Guildford.
Well Done & Best Wishes from all your friends at Croft.
---
Tuesday 4th Sept

2012 CROFT Bowling Team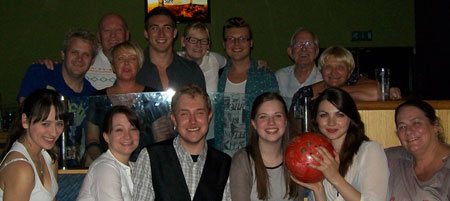 Thank you to Louise who organised a pre-rehearsal social event.
A good time was had by all
---

KATE GUITE (Katie Dickinson) sadly passed away on 30th August 2012
Kate, along with her late husband Eric Dickinson, were Principal Members of Croft during the 60's & 70's.
Their daughter Fiona, followed her talented parents and is a playing member and Trustee of Croft House T.C.
Our condolenses are sent to Fiona Hannon, and family.
Kate's funeral will be at Rotherham Crematorium on Friday 7th Sept at 3.45.
Katie pictured in the Croft 1971 Programme.
---
Sheffield Jubilee Fayre 26th & 27th August 2012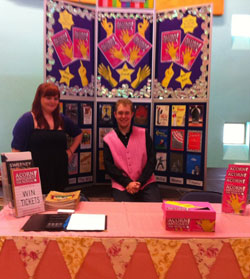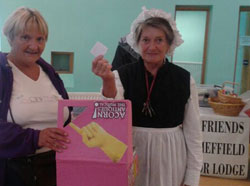 Congratulations to Mr ALAN MILLER
The Winner of the Draw to win 2 tickets to see 'Acorn Antiques'
Thank you to Ben & Hayley (Sunday) & Andrew, Shan, Judith, Sandra, Keith, Louise & Mark (Monday)

The Brian Revitt Award Winner(s) 'The Sound of Music' 6 Chaper-Nuns
Jill Beckett, Jenny Bingham, Laura Collis, Katie Mather, Kate Parkin, Emma Townend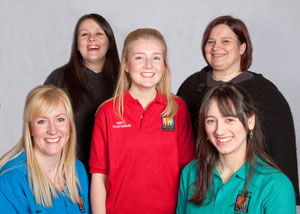 The President, Miss Judith Silvester presents the Award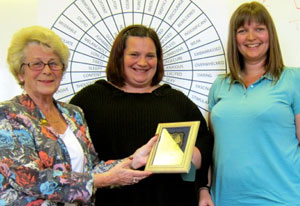 With Lisl & The Von Trapp 12 children teams Bread & Jam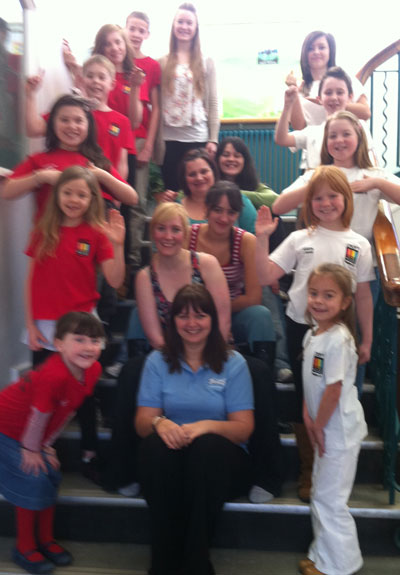 AGM 17th July 2012
Chaired by Miss Judith Silvester - The President of Croft Theatre Company
Joan Bennett has retired as Chairman but will continue as Treasurer.
New Chairman is Mr Martin Peacock (previously Vice Chairman)
New Members representative - Mr Gareth Davies (Director of last 2 productions for Croft)

Additional Vice President - Mr John Higgins (former MD of Croft for 28years)

Life Membership awarded to Miss Margaret Brown for her long service to the company
The Oscar Nominations 2012
Awarded for daft, funny, outrageous, off the wall antics.
Thea - for losing her front teeth during rehearsals but still smiling

Maddie - for changing into her PJ's end of rehearsals to be ready for bed

David - for writing an entire script for his 'un-scripted' role

Joan - for breaking all records with her 22 bows

Paul - for saving the nuns from a Nun-Skittle during a live performance.
The Winner was - Mr Paul Minott (Production Manager & Life Saver)
---
24th January 2012:
E-Mailing List Free Ticket Draw

Winner: DAWN BROWN
The winner was selected by Thea & Maddie who play the role of Gretl
on alternate nights in 'The Sound of Music' ~ 13th -17th March
---
---
Croft House Theatre Company - Founded in 1902
Producing First Class Community Theatre in Sheffield for over a Century

Registered charity number - 701811
Who's online
There are currently 0 users and 1 guest online.